All we wanted for my birthday was a Dodger victory. What I got was an unusual and exciting game.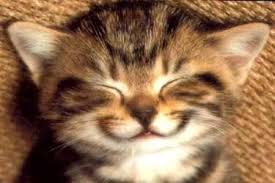 Happy Cat
I started out, of course, with my birthday dinner which consisted of Mexican food Dodger style
beef taquitos with guacamole, enchiladas, Mexican rice, a to die for sirloin with horseradish sauce
Of course I had to help myself to a huge salad plate.
caesar salad, corn and black bean salad
The corn and black bean salad is one of my all time favorite dishes at Dodger Stadium.
I caught some batting practice.
Guillermo Mota was warming up. Little did I know what he was warming up for later on.
Kuroda was our SP which was appropriate since he is my favorite pitcher. I was hoping he would have a good day His last outing was stellar..
Matty was out there in the field lying down on the job
I was able to get this close to Andre again.
My Matty gave me a nice wave from the field as he usually does when he spots me out of the 55,000 fans in attendance.
I took this picture of Matty which I think will become my favorite. Isn't he a doll?
I told him it was my birthday. After giving me a huge smile and wishing me a happy birthday, he said he would try to hit a homerun for me.
The game was unusual. Several things happened last night.
A fan who must also be an idiot ran on the field near where Matty and Manny were standing.. My securtiy person Juan was first on the scene and tackled the trespasser. He will never be allowed in Dodger Stadium again after spending the night in jail. He will also have to pay a few thousand dollars in fines.
This is not a victory dog pile. It's an "I think you are in big trouble" pile.
Security did a fine job. The fan only was able to run around a bit before he was hauled off. The problem was that it threw Kuroda- san off a bit and the Brewers were able to score 2 runs.
And that, Cat, is what will happen to you, so behave yoursellf. You may get tackled.
This is the first time this season that a fan has run on the field. It has to happen at least once a season. At least he had his clothes on.
The game was fantastic. Here is the score.
Can you believe 17-4?? This was the highest scoring homegame for the Dodgers in 30 years.. I only asked for a win and I got a huge victory. Almost everyone had a hit including Guillermo Mota for the first time in 5 years with an rbi. Manny ended his slump with a 2 run rbi and homerun.
The next unusual thing that happened was that Mota was ejected for hitting Prince Fielder with a pitch. That was supposedly in retaliation for Manny getting hit by relief pitcher Chris Smith in the 7th inning.. Fielder was hit in the leg. Fielder displayed a few anger management issues. After the game he tried to storm the Dodger Clubhouse with a backup of Brewers players. Of course our security would not let them near our Dodgers. As Russell put it, that's just part of the game for the pitcher to protect his players. Mota has guts. It is obvious that everyone wants to hit Manny. He already has been injured in the arm by a pitch. He has also been hit in the ribs. If I'm not mistaken Russell was also hit by a pitch during the game.. Mota has been involved in retribution pitching in the past with an incident with Mike Piazza, a Met at that time. What did Fielder think he would do once he went into the Dodger Clubhouse? As Russell put it very simply, "That's all right. It's 25 against one.
The outfielders were pondering the umpires decision.
Everyone had a good game except James but his time will be at a later game. And with 17 runs, better to save any more runs for another game. Castro was a late entry since Hudson had a tummy ache. He also did not score. I'm glad Russell had a good game getting on base 5 times and 3 rbi's since people have been booing at my license plate.
My poor car is losing face
I had my ice cream with toffee sprinkles as my birthday cake. All this drama during the game just made me more hungry. It was like being at a movie.
I was on Dodger Vision. Junior Seau was playing bat boy for a reality tv show and when he was on Dodger Vision, I happened to be sitting near him. In fact, I was complaining bitterly about the fact all his cameramen were blocking my view In fact HE was blocking my view. He's kind of a big guy. His jersey said 55 and Junior.. All I could say was who's that Junior guy, he's in the way. Apparently he's a football player.. I am not really a football fan. The Dodgers take up 6 months of my life. I can't do football too or my family and work would disown me.
The next event was that I was on KABC Talk Radio tonight on Dodger Talk. I was excited about the huge game tonight. In my small mind I felt that the stars were aligned tonight because it was my birthday which helped the Dodgers win. My friend Linda is a regular on the show. This is the Linda with the wolf hat. I was mortified that I would sound like I had half a brain. Linda assures me that she thinks she sounds the same way. That didn't reassure me at all.
And Matty had another huge night. Two base hits, a double and the homerun. Five RBIs. After the first base hit, I thought, thank you Matty for the nice present, then the next hit, I thought that really is nice and then the next hit, I thought, I am more than satisfied. When he hit the homerun I started to jump up and down like a lunatic since I knew that homerun was for me!! It jsust sent chills up and down my spine. It was one of the most exciting things that has ever happened to me. I will always remember it. He almost hit for the cycle, only lacking a triple.
I know many of you like my Andre pix so I will end this entry with a few candids of Andre, and a couple of our other Dodgers..
I just can't do anything with my hair
Matty having a good laugh
hnnnn, and maybe I need a shave too
Oh yawn, anytime now
Russell waiting after Mota was ejected
Oh good, time to go home?? What another inning?
.
Manny
One question that has been asked is what he whispers to Matty after he makes a great defensive play. The answer…"man, I'm working on a Golden Glove." Now that's a funny Mannyism. His defense is perking up a bit..
I had to include Andre the bubble blower. He and Matty must have a contest going to see who blows the most bubbles. I've heard announcers commenting about how players can't blow bubbles and still concentrate on the game. Obviously the announcer can't chew gum and walk at the same time It certainly hasn't affected Matty Kemp's concentration..
I am a little tired after all the celebrating and cheering but it's a very nice tired. It's been a long night as you can see. I am proud of our guys. They have heart. They do believe in themselves as James said. After a loss, they pick themselves up and keep on going. Tonight was a big win for them and a memorable birthday for me.
Everyone have a great day. Matty and I say bye bye and talk to you again soon. Thanks everyone for your best wishes on my birthday and thanks so much for reading my blog. I enjoy sharing my experiences with you.